---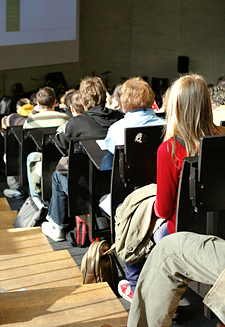 ---
---
Contact
Studienberatung
phone: +49(0)3455525004
phone: +49(0)3455525168
fax: +49(0)3455527207

room 36
Wolfgang- Langenbeck- Str. 4
06120 Halle/ Saale
---
---
Login for editors
---
Educational Programs
Ich will WISSEN - das Informationsportal
Informiert bleiben ist so einfach: Studieninteressierte und Bewerber finden unter http://www.ich-will-wissen.de ein Portal, das umfangreiche Informationen zu den Schwerpunkten "Studieren", " Leben", "Karriere" und "Internationales" bereit hält. Achtzehn Studienbotschafter stellen Studienangebote vor und berichten über ihre Eindrücke an der Martin-Luther-Universität Halle-Wittenberg und in der "pulsierenden Metropole" Halle (Saale).
Wer clever ist, richtet sich einen persönlichen Bereich ein und bekommt dann alle Informationen - genau passend zum Wunschstudiengang frei Haus.
---
Pharmacy Graduate Course
Offered degree: state examination (Pharmacy)
In addition a diploma degree in Pharmacy can be otained
The study course starts every year in October (Wintersemester).
Detailed curriculum of the Pharmacy Graduate Course
DAS STUDIUM.pdf (33.9 KB) vom 14.12.2007
Pharmacy Diploma (only in German)

Diplomordnung.pdf (35.7 KB) vom 06.02.2008
Master Pharmaceutical Biotechnology
Information concerning the master program in Pharmaceutical Biotechnology (120 LP)
---
---