Institute of Pharmacy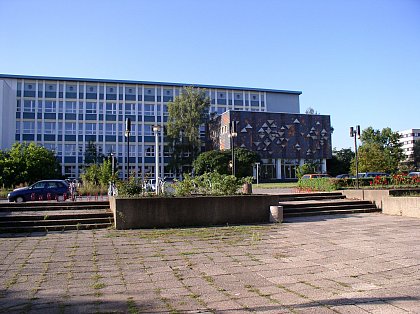 ---
Einführungsveranstaltung für das erste Semester Pharmazie
04.08.2014: Am Mittwoch, dem 08.10.2014, findet von 10.15 bis ca. 12.00 Uhr für das erste Studienjahr im Hörsaal des Instituts für Pharmazie
Wolfgang-Langenbeck-Str. 4, Universitätsgelände Weinbergweg 06120 Halle
die Einführungsveranstaltung für den Studiengang Pharmazie statt.
Wir bitten Sie um unbedingte Teilnahme an dieser Veranstaltung, da Ihnen alles Organisatorische und Wissenswerte zum Studium erklärt wird (Vorstellung des Instituts, Studienablauf, Einteilung in die Kurse, Ausgabe Stundenplan usw.).
Außerdem können Sie bei besonderen Interessen freiwillig auch an anderen naturwissenschaftlichen Grundlagen-Kursen teilnehmen, die von verschiedenen Instituten unserer Universität zusätzlich vor oder zum Semesterbeginn für die Studienanfänger aller Fachrichtungen angeboten werden (z. B. Physik-Kurs).
Die Lehrveranstaltungen des Wintersemesters 2014/2015 beginnen am Montag, dem 13.10.2014.
Bitte bringen Sie 1 Paßbild mit Ihrem Namen deutlich gekennzeichnet (Rückseite) für unsere Studierendenkartei mit.
Prof. Dr. W. Sippl
Institutsdirektor
Pharmacy at the Martin- Luther- University
There is a long tradition in the education of pharmacists in Halle. In May 1829 Franz Wilhelm Schweigger-Seidel founded the first Institute of Pharmacy at the Faculty of Philosophy in Halle. In 1853 the study of Pharmacy at an university became mandatory. The Institute of Pharmacy and Food Chemistry officially started in 1931, but was closed by the government a few years later in 1938, before it was re-opened after the second world war (1946). Since 1968 the Institute of Pharmacy – which was named "Sektion Pharmazie" in the former GDR – had its place at the Weinberg Campus. After the reunion of Germany in 1990, the name was changed to Faculty of Pharmacy, and in 2006 Pharmacy, Biochemistry and Biology joined the common Faculty of Biosciences. The Institute of Pharmacy is one of the biggest pharmaceutical facilities in Germany.
Contact
Martin-Luther-Universität Halle-Wittenberg
Institut für Pharmazie
Wolfgang-Langenbeck-Str.4
06120 Halle (Saale)
postal address:
Martin-Luther-Universität Halle-Wittenberg
Institut für Pharmazie
06099 Halle (Saale)
---
---